Google My Business
Rank Higher With An Optimised Google My Business Page
Is your business struggling to attract customers?
Tired of losing clients to your competitors?
Are you worried you're not making the most of your
digital online presence?
If you are a local business owner you should already know that it's getting even more complicated to have more clients knocking on your door. With the current situation, it's getting harder to outrank your competition.
We are here to help you. Our local marketing services will help you business get more customers.
Cornerstone can help you do just that. Get started today to win at local SEO!
Check Your
Website Local Optimization
 We have a special offer for you! Our team will send you a custom local marketing report for your small business so that you can check what part of your business needs optimization. We will also make sure you have claimed your Google My Business account.  If not we will alert you to it.
Our Google My Business Optimisation Process
Understand your business – the first thing we do is get to know your business intimately. We want to know the types of clients you have and the ones you are trying to attract. We want to learn everything that makes your company unique. This will be accomplished through the marketing manager assigned to you.
Claim your listing – most companies already have a GMB page. The problems is, many of these are unclaimed, or have been claimed by a different company. Our first priority therefore, will be to claim or reclaim your listing, whichever is needed.
Create your page – the next step would be to create your page and make sure the same information is consistent in your Google Maps listing and your Google+ page. Besides making sure your contact information is accurate, we will also carefully select the right pictures for you and write posts that showcase your strengths.
Get reviews and references – we will encourage your Google+ followers to leave reviews on your page and also contact authoritative sites and ask them to do the same.
Ensure web-listing consistency – we will make sure your business information is listed correctly on all major authoritative sites, such as Yelp, Yellow Pages, and Foursquare.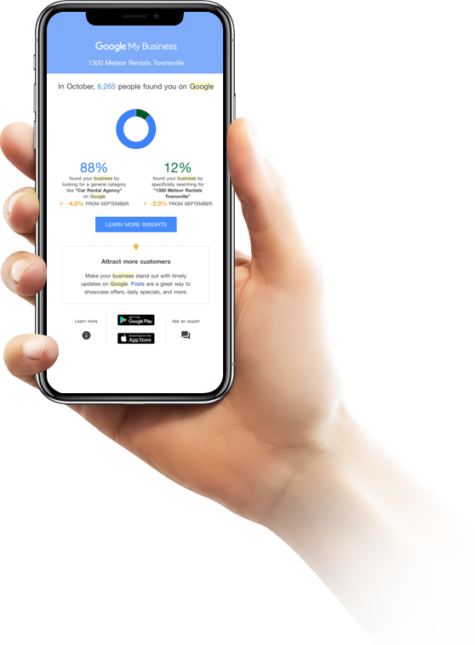 WHY CHOOSE OUR GOOGLE MY BUSINESS SEO CAMPAIGN?

Cornerstone offers a full range of digital marketing solutions, so adding GMB allows us to improve your marketing and therefore maximizing your investment.

You get a dedicated marketing manager, who will take the time to learn about your business and understand the best strategies for you.

Our set-up and management fees are highly competitive, in order to give small and medium businesses a fighting chance

We don't rope you into a long contract. We prove our value, month after month

We can develop multi-faceted strategies to help improve not just your GMB page, but your website and social media pages too

We will clean up all your directory listings to ensure you have a strong, consistent and accurate presence on the internet – misleading information affects your GMB ranking.

Our PR Team will help manage your reviews so that even negative reviews can be turned into wins for your organization.

We share knowledge – you are great at what you do and we are too. We want to let you in on some tradecraft to help you learn more about the digital marketing process

We have a well-rounded team of Local SEO experts, marketers, writers, social media managers, and everything else you can think of to ensure your company's continued success
FREQUENTLY ASKED GMB QUESTIONS
What is GMB optimization?
GMB (Google My Business) optimization is the process of optimizing your GMB listing and leveraging it for more sales. While many companies claim their GMB listing, they tend to overlook the importance of optimization. This is tantamount to developing a website but forgetting to create product/service pages.
An optimized GMB listing helps Google find, crawl, index, and rank a local business. This plays a central role in helping your business attract high-quality traffic and build a wide audience base.
At Search Berg, we use an innovative GMB optimization process to improve your company's online presence.
How is Google My Business valuable to my business?
Google My Business makes it much easier for local web users to find your business. By sharing essential business information (name, address, phone number, website, business hours, etc.) and optimizing your listing, you can maximize your chances of appearing in the Google 3-Pack.
The Google 3-Pack displays the top three search results for a local search. Why does earning a spot on it matter? Because the top three search results on Google earn a whopping 75.1% of all clicks.
If your business is listed on the second or third page, your click-through rate will be significantly lower. In fact, 75% of people never scroll past the first SERP (Search Engine Ranked Page).
In a nutshell, Google My Business is a powerful asset for your business. By optimizing your listing, you can easily expand your audience and enjoy high sales.
How do I optimize my GMB listing?
Our GMB optimization specialists use a wide range of innovative, effective, and actionable strategies to help local businesses rank higher.
Our state-of-the-art software, resources, expertise, and extensive experience enable us to deliver incredible results that can be easily sustained in the long run.
Our strategies include (but are not limited to):
Keyword optimization
Actively requesting and responding to reviews
Ensuring NAP accuracy and consistency
Leveraging GMB Messages
Consistently sharing high-quality posts (images, videos, etc.)
Carefully monitoring GMB Insights and making changes accordingly
Creating FAQ lists
Monitoring the Q&A section
How do I sign up for your services?
Click here to request a proposal and free SEO audit report. Simply enter your name, phone number, email address, website, chosen service, and project details. Submit the request and our local SEO experts will get in touch with you shortly.
For more information, give us a call at 404-425-9573and we'll take it from there.
Should I use GMB if I already have a website?
Yes! Your free Google Business Profile complements your website by adding more visibility to your current business website on Google Search and Google Maps. You can even add a link to your website on your Business Profile.
Can you guarantee a top-three listing?
As with all things related to SEO, there can be no truthful guarantees. What we do is give you the greatest possibility of success, and keep working on your keywords and website to get you higher up that list. You will see your ranking improve and your visibility increase. As mentioned previously, getting in early is the ideal way of getting in the top three.
Does my business have to be in the US?
Cornerstone works with English speaking clients all over the world. There may be some restrictions on what we can do depending on your location, but our savvy team will always provide you the best solution attainable.
How long will it take to start benefitting from my GMB page?
Some clients have had an immediate impact within a few weeks, but this is a long-term strategy, so it takes on average 3-8 months. This will depend on your location, your other digital marketing strategies, and a few other factors.
How much can local SEO cost?
While most local SEO companies charge an exorbitant sum, we've taken a different approach at Cornerstone. Our local SEO services start from as little as $199.
We take the time to assiduously understand each client's specific requirements and goals. Our local SEO experts create an individualized strategy based on our analysis. This helps each business dominate their respective industry instead of receiving a one-size-fits-all plan. By focusing on creating and executing niche-specific solutions, we help our clients attract qualified local traffic and establish a winning online presence.
Depending on your customized package, project scope, and deliverables, the total cost of the project may vary. Our final prices are extremely affordable so you can build a wide local audience without worrying about hurting your budget!
Can I still use GMB if I don't have a business storefront?
Yes! Whether you're a home-based business or a service-area business, you can list your business details to appear on Google with or without a physical address.
How do I get a Google My Business account?
Any business owner can claim a listing via Google My Business. There is no cost to have a Google My Business listing, and there is no cost to set it up. The key is knowing the best practices, having a process for implementation, and saving your valuable time. That's where experts, like us, can take away the frustration of trying to figure it all out.
Isn't GMB free? Why would I pay someone?
Yes, it is. And it all comes down to time and expertise. The time and expertise needed to fully and properly set it up and manage it can be daunting, especially if digital marketing isn't your strength. If you have time and have a measure of comfort with technology, you can find videos and PDFs and lots of Google support pages and communities that will help you do all of this with only your time commitment. Add to it that your Google Profile is reasonably intuitive. That said, it's still going to take you hours on top of hours of YouTube watching and document reading to accomplish what we'll do with you in a quick 2-hour session. In the end, it's totally up to you.
How does GMB help me reach more customers?
Google My Business gives you the power to attract and engage customers when they search for your business on Google. Your Business Profile gives you a presence on Google Search and Maps, allowing you to respond to Reviews, post photos of products or special offers, and add/edit your business details. Your Google business website lets you present your business professionally online, showcasing your photos and business details in a beautiful way. Insights show you how you can optimize your customer engagement for better results, and you can encourage more engagement by interacting with your customers from the Customers tab.
What if I have questions about the project?
If you have any questions or concerns about the project, please feel free to contact your project manager. Our experienced project managers work closely with each client to provide assistance and ensure the project runs smoothly.
If you require additional e-commerce SEO assistance, please speak with your project manager and they'll make arrangements accordingly.
What if I am not satisfied with the results?
At Cornerstone, we go the extra mile to offer actionable results that help you rank on Google in less than 30 days. If your project is in its initial stages, we suggest waiting for a few weeks to view concrete results. Given the immense online competition, it may take some time before you begin to achieve target KPIs and notice an increase in quality local traffic.
However, if you're still dissatisfied with the results, we have a strict no-hassle money back guarantee. If your website doesn't rank in 30 days, we'll provide a complete refund, no questions asked.
With no contractual obligations, you don't have to worry about any unexpected complications.
If you'd like to make changes to your project or share your concerns, feel free to reach out to your project manager. They'll be happy to accommodate your needs.
It's time to get you more customers. Starting today.
Take Your Business To The Next Level